Get To Know Us: Our Brand Values & Sustainable Promise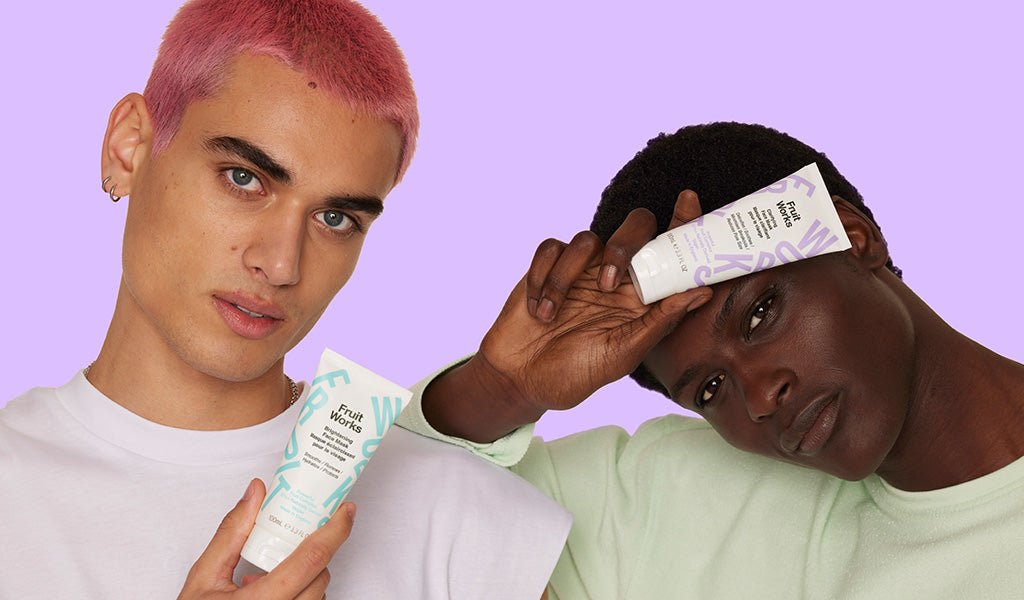 Here at Fruit Works, we believe in good and honest skincare products that are not only effective at treating skin concerns but that are kind to the planet too! We love the power of fruit – our products are made up of high performing fruity ingredients to reveal clear, fresh and glowing skin. Not only this, but we make sure we are as ethical and sustainable as we can be in the process.
We know there are lots of brands out there that are all claiming to be the best, so what makes us different to the rest? We have considered what is important to not only us but our community too – and by that we mean you! At the top of the list for us is being able to deliver fun, effective skincare at affordable prices, making our brand attainable for everyone.
You'll also be pleased to know that we are:
91% + Naturally Derived
Vegan
Cruelty Free
Made In England
Dermatologist Approved
For all skin
Kind
Made From Recycled + Recyclable Materials
We think it's important to be as transparent as possible about what goes into our products and also what we leave out and we are proud to say that our products are free from:
Silicones
SLS
Sulphates
Parabens
Formaldehyde
PEG
Gluten
Microbeads + Microplastics
Our Eco Agenda
We are committed to ensuring that all decisions we make, have an eco-agenda so we make the most impact possible, we have chosen to focus on carbon impact and promoting a circular economy.
We ensure all product is manufactured in England to enable us to monitor and minimise our carbon footprint. We are currently working on understanding each product's carbon impact too so we can ensure this is continuously monitored and improved. 
We are committed to ensuring that where possible, we include a minimum of 30% PCR (post-consumer recycled) materials in our packaging and that everything is 100% recyclable*; The recycling of plastics is one part of the solutions needed to create a circular economy. It turns waste into raw materials and ensures that these are kept in use, therefore reducing the need for new virgin plastics.
Why not 100% PCR we hear you say? Well, we want to ensure that what we promise, we can deliver, and 100% PCR may sound good, but it's not sustainable for eternity; there will come a point at which new virgin plastics will have to be put back into the system to ensure product quality and reliability. For us, we prefer to make good quality, sustainable products at prices everyone can afford!