Why Our Multi-Balm Is The Perfect Addition To Any Skincare Routine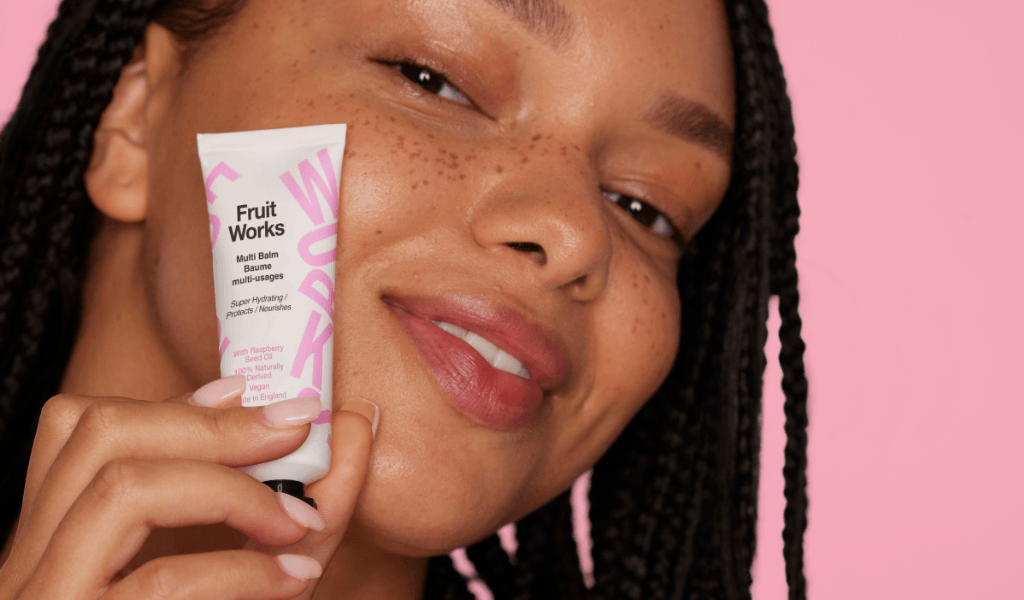 We love skincare products that allow us to get the best results in the most simple and cost-effective way. That's why, when we created our lineup of fruity, powerhouse products, we made sure they offered real results with multiple uses and benefits for the skin.
Say hey to our Multi-Balm (your skin's new bestie)! Although it might look small, our Multi-Balm is a fruity snack for your skin, and this why :
Our Multi-Balm contains key fruit derivatives which help nourish and hydrate the skin. Get the know them below:
Raspberry Seed Oil: A nourishing, hydrating, skin-smoothing active oil, naturally loaded with antioxidants and essential fatty acids for protection against free radical damage. Raspberry Seed Oil is a natural source of Vitamin E and Omega-3 and Omega-6 essential fatty acids, which are crucial to skin function and appearance.
Apricot Kernel Oil: Nourishes the skin and helps to increase skin radiance.
Mango Butter: Expressed from the kernels of the Mango, this butter has an abundance of Vitamin E and Vitamin C which can help to protect your skin from environmental stressors like sunlight and pollution.
Coconut Oil: To help to soothe and keep skin moisturized.
Not only this, but you will be pleased to know that our multi-balm is:
100 % Naturally Derived (Yes – 100%!)
Vegan
Made In England
Dermatologist Approved
For All Skin (suitable for sensitive skin)
Kind
Recyclable & Made Using Recycled Materials
So now you know a bit more about what's inside our fab Multi-Balm, we bet you're wondering, "well how can I use it?" Here's our top five:
As a Lip Balm or Lip Gloss
Apply a small amount (a little goes a long way!) to your lips either as a lip balm or over your lipstick for a glossy finish and extra hydration. Top up whenever necessary for a fruity snack.
As a Barrier Balm
The slugging skincare trend is still viral and looks like it's here to stay. Slugging involves putting a layer of balm on your face as a physical barrier on your skin to lock in moisture and prevent water loss. Use on top of your other skincare as the last step of your routine in the PM.
As a Skin Saviour
Apply to dry patches of skin whenever needed by simply dabbing a bit of balm on the skin. Or, if you're cuticles are needing a bit of TLC, apply to them directly to keep them soft and hydrated (plus it will help to prolong the life of your manicure!).
To Tame Hair
Have you got unruly brows that need taming? Smooth a little bit of balm over the brow hair to keep them defined and in place. Or tame fly away hairs or frizz by rubbing a small amount of balm between the fingertips and smooth through sections of the hair.
As Highlight
With glass and glazed skin taking the beauty industry by storm, a balm is an effective way to get this look. If you want to achieve that fresh, no makeup, makeup look, simply dab a little bit of balm on the areas of the face that catch the light and you want to enhance, including the cheekbones, temples, nose and under the brows.
You can shop our Multi-Balm here.