Why Fruit Extracts Are So Good For The Skin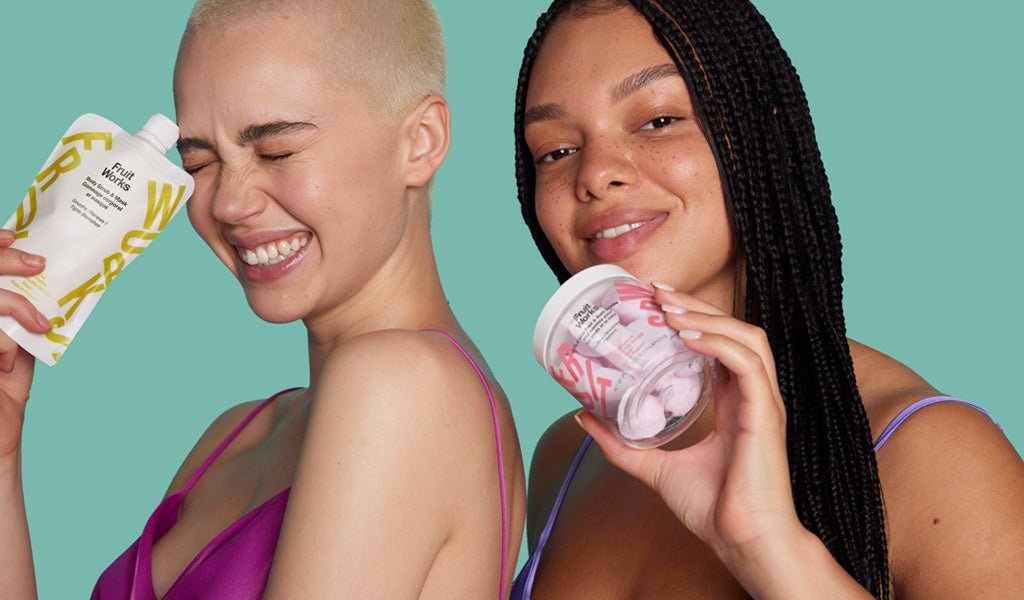 There's no denying the benefits of fruit for your diet due to their range of nutrients and vitamins, but how does it benefit your skin? From preventing acne, fine lines, pigmentation to keeping your skin glowing, the benefits of fruit for your skin are endless. If you are wondering how, then listen up - fruits are a rich source of antioxidants, making them one of the best things you can eat to achieve healthy and glowing skin.
Fruit enzymes offer gentle exfoliation to the top layer of the skin for a natural glow. As an exfoliator for all skin types, fruit enzymes gently resurface skin to provide a smooth complexion and give you that glow! They're effective yet so mild that even those with the most sensitive skin can use them. As a result, skin texture will be even, and the breakdown process shows a reduction in scars and pigmentation – what's not to love?
Although eating fruit is the best way to gain their benefits, we all know it can be hard sometimes (no judging here!) to get your 5 a day into your diet every day. The next best thing you can do is incorporate fruit into your skincare to still get their amazing benefits. Good news for you - we have made it simple with our launch edit of easy-to-use products for head to toe glow! – say hello to Fruit Works!
Keep reading to discover the fruit inside our products and all their juicy benefits…
Orange
Apart from making you feel energized, Oranges can make your skin glow due to them being packed full of nutrients and antioxidants. Rich in Vitamin C, Orange helps to control signs of aging such as hyperpigmentation, fine lines, and wrinkles. Not only this, but it exfoliates and brightens the skin as well as reducing inflammation. Due to its all-round benefits, we've included Orange and Vitamin C in the following products:
Lemon
As a rich source of Vitamin C, Lemons are known for their detoxifying effects. Due to their antimicrobial effects, they are great in treating acne. Not only this, but they are super effective at reducing dark spots and pigmentation marks to brighten overall complexion and improving the skin's barrier function. You can find Lemon and its citrus goodness in the following of our products:
Blueberry
Although small, sweet, and delicious, Blueberries are a powerful superfood and are known for their disease fighting properties. Along with Vitamin C and E, Blueberries also contain Vitamin A. Blueberries help soothe skin inflammations, even out skin tone and act as an anti-aging agent by helping to fight off damage caused by the sun and pollution. Due to their amazing benefits, you'll be able to find Blueberries in most of our products including:
Cherry
Cherries are a great source of antioxidants and contain a variety of vitamins including Vitamins A, B, C and E which are great for keeping the skin healthy and hydrated. They also help fight free radicals caused by environmental aggressors like UV rays and pollution. Due to their amazing antioxidant benefits, you will find Cherry Oil inside our TLC Mini Foot & Bath Bombs to nourish and soften the skin.
Avocado
Besides tasting delicious, Avocados are high in healthy fats and are an excellent source of Vitamins C and E which play a key role in the health and vitality of your skin. One of their main benefits include their aid in increasing skin elasticity and reducing the appearance of wrinkles and breakouts. You will find Avocado Oil inside our Whipped Body Soufflè, which helps to deliver soft, supple and hydrated skin all day long.
Raspberry
The fruity goodness of Raspberries not only reminds us of a summer's day, but they also have many benefits for the skin. Despite being a tiny fruit, they are bursting with antioxidants and essential fatty acids for protection against free radical damage. Not only this, but they are a natural source of Vitamins C and E which reduces dryness of the skin and make it look fresh and glowing. You will be able to find Raspberry Seed Oil inside our Multi-Balm, a versatile barrier balm to help hydrate and protect the skin.
Coconut
Due to being rich in fatty acids, Coconut Oil has amazing nourishing properties for hair that are especially good at absorbing quickly. Not only does it provide moisture to tame frizz and heal breakage, but it helps to add shine if the hair is looking or feeling a little lackluster, giving it a glistening sheen. Our Hair Boost Mask is rich in Coconut Oil combined with Shea Butter, to condition and add shine to hair, as well as leaving a subtle and fruity fragrance on the strands.