Introducing Your New Fruity Skincare Bestie: Fruit Works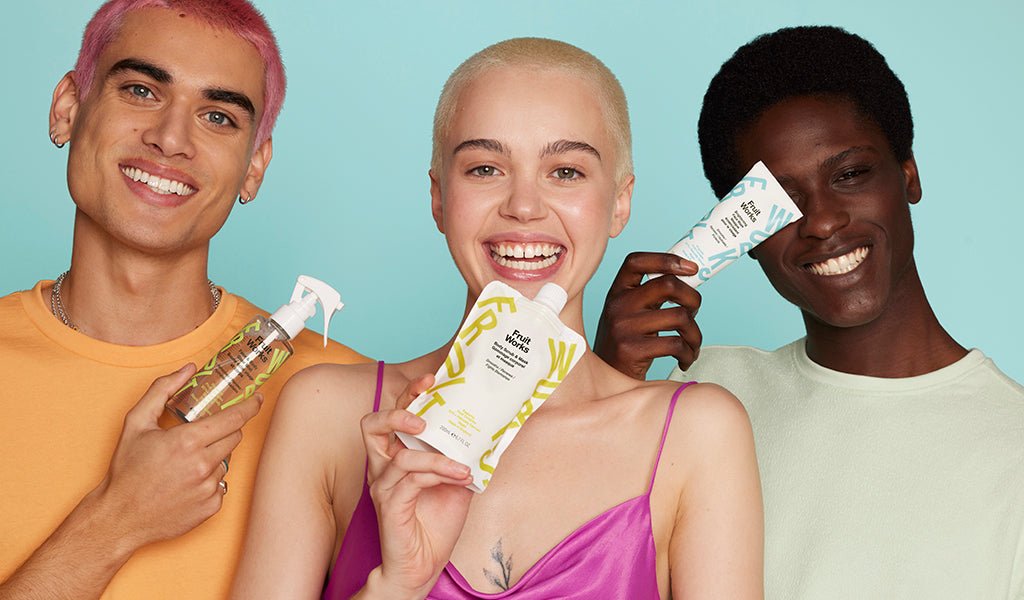 Hey there, nice to meet you! We're Fruit Works, your new fruity skincare bestie. We are a naturally derived and ethical collective of bath, body and skincare products that offer true food for the skin that benefit the entire body.
Here at Fruit Works, we believe in the power of fruit (not only as a juicy and delicious snack) but also for applying to our skin due to their amazing benefits. That's why we've combined real natural fruit extracts with powerful AHA's in each of our products that complement each other to have multiple benefits for the skin. Not only do fruit enzymes soothe inflammation, but they gently exfoliate and brighten dullness (hello clear and glowy skin!) Also containing our signature Fruit Works scent including Melon, Mint, Peach Nectar, Jasmine and Milky Coconut - what's not to love?
As a brand, not only is it important to us to develop incredible and fun products with real results, but we also strive to be an ethical brand in everything we do. That's why, not only is Fruit Works kind to the planet, but it is also:
100 % Vegan
Cruelty free
Dermatologist approved
Suitable for all skin types
91% + Natural origin
30% + PCR materials
Recyclable packaging
Made In England
Now for the juicy part - keep reading to find out more about our core collection of ten products covering face, bath, body, and hair (we know you want to!)…
Face
Refreshes / Renews / Hydrates / Radiates 
An instant pick me up! A luxurious, naturally hydrating, face & body mist to transform dull, thirsty skin leaving it brighter, moisturised and rejuvenated giving you silky smooth dewy skin. Combined with Orange, Blueberry and Lemon along with powerful ingredients of Niacinamide and Glycerine to hydrate the skin and protect it from damage. Simply spritz throughout the day for a subtle, buildable glow.
Smooths / Renews / Hydrates / Protects
Developed for all lacklustre skin to radiate, smooth and hydrate. This multitasker encourages cell renewal and ensures skin is left protected. Containing a powerful mix of Blueberry, Lemon, and Orange to increase cell renewal along with Olive Oil and Glycerine for moisturisation, Vitamin C for even skin tone.
Detoxifies / Soothes / Minimises Breakouts / Reduces Pore Size
Formulated to detoxify and soothe confused complexions with Blueberry, Orange, and Lemon extract. This mask will work to draw out impurities, soothe inflamed blemishes, help boost elasticity and cell turnover for fresher, clearer looking skin. Also containing Kaolin Clay to deeply cleanse and remove excess oil, Niacinamide to improve skin texture, Apricot and Olive Oil for nourishment and Vitamin E for its antioxidant properties.
Bath
Bath & Shower Body Jelly 250ml
Cleanses / Softens / Hydrates
This juicy Bath & Shower Jelly extracts grime and sweat from your pores, lifting it from your skin, then washes away without drying it out. With Blueberry, Lemon, and Orange extract to help with cell turnover along with Aloe Vera to hydrate skin. Skin is left feeling soft, supple, and smelling fruity fresh!
Smooths / Fights Blemishes / Renews
This multitasking Body Scrub & Mask is a 2 in 1; Pre shower, rub onto dry skin for a quick intense scrub or during shower on damp skin for a gentle exfoliation. Leave mask on to restore glow and tackle hyper pigmentation. Containing a powerful fruit complex that delivers five natural AHAs to help brighten skin as well as Pumice Powder which helps remove dead skin cells and Glycerine which draws water to the surface of the skin.
Softens / Nourishes / Freshens
These dual use effervescent Mini Foot & Bath Bombs dissolve into your bath giving you an instant hit of TLC and leave your skin feeling soft with nourishing Cherry Oil. 
Body
Super Hydrating / Softens / Replenishes
Lightweight and nourishing, this Whipped Body Soufflé delivers hydration for velvety soft skin all day long. Containing moisturising Avocado Oil to help improve skin's elasticity and Betaine, an Amino Acid which helps provide moisturisation and protection.
Super Hydrating / Softens / Evens Skin Tone
Formulated for body hydration, glow and even skin tone with Blueberry, Orange, and Lemon extract. Leaves skin soft, smooth, and beautifully moisturised with Peach Oil, Vitamin E, Aloe Vera and Shea Butter for skin flexibility and elasticity.
Super Hydrating / Protects / Nourishes
A versatile and concentrated moisturising barrier balm for dry skin wherever it may be! Soothes and prevents chapped lips, nourishes cuticles, enhances your skin's natural barrier. A powerful mix of Apricot Oil, Raspberry Seed Oil, Mango Butter and Coconut Oil for ultimate hydration and protection against environmental stressors like sunlight and pollution.
Hair
Strengthens / Repairs / Smooths / Hydrates
A 3 in 1 intensive hair treatment benefiting all hair. Use as a prewash treatment, conditioner, or intense hair mask. Containing Coconut Oil to improve condition and shiny hair as well as Glycerine to provide a moisture boost to help hydrate hair and scalp.
We can't wait for you to try our products and become a part of our fruity fam – we hope you love them as much as we do! Don't forget to tag us in your content on Insta @fruitworks and Tik Tok at @fruit_works/ #fruitworks for the chance to be featured on our page.