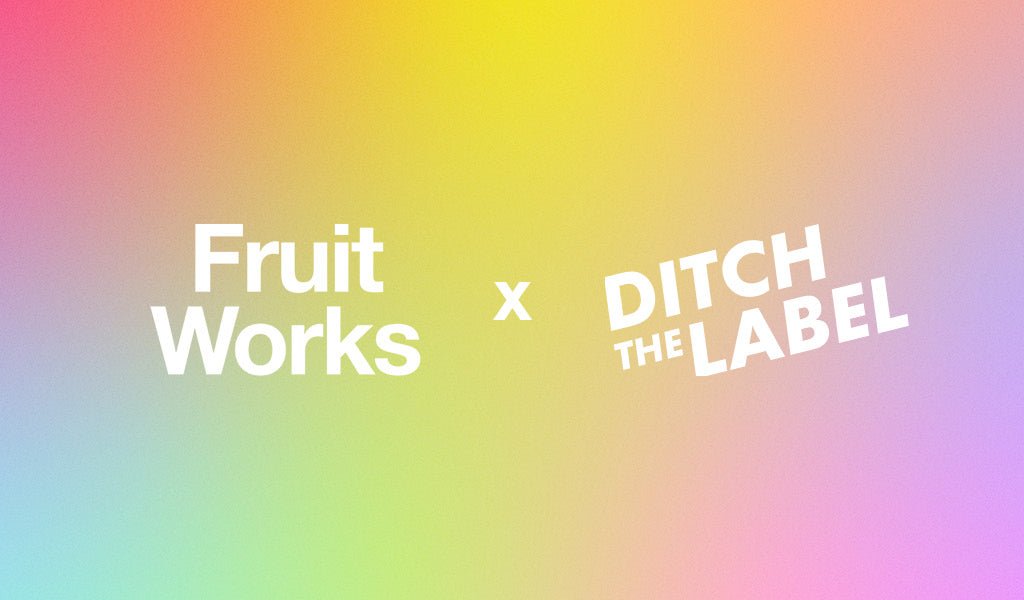 Happy Pride Month! It's a time to celebrate diversity, love, and acceptance of all individuals, regardless of their sexual orientation or gender identity. And here at Fruit Works, we are totally on board with that. We believe in creating an inclusive and supportive environment for everyone, and we are proud to stand with the LGBTQIA+ community, not just during Pride month but all year round. So let's dive into this blog post where we spill the tea on our commitment to LGBTQIA+ community and our amazing partnership with Ditch the Label, while reminding you how important it is to embrace and love yourself. 
Fruit Works x Ditch the Label
Okay, let's talk about Fruit Works and Ditch the Label. We are all about creating an inclusive space where everyone feels valued, respected, and supported. We know that the LGBTQIA+ community faces unique challenges like discrimination, stigma, and mental health concerns. That's why we've teamed up with Ditch the Label, this incredible global youth charity that's been helping young people for over 10 years! They are on a mission to tackle all the tough stuff that affects young individuals, from bullying and mental health to relationships and identity. They provide digital safe spaces, direct support, education, campaigns, and world-class research. Basically, they've got your back! 
Embrace Who You Are
Now, let's get real and talk about embracing who you are. Self acceptance is a journey. But let us tell you, it can be life-changing. It leads to greater happiness and fulfillment. At Fruit Works, we firmly believe that diversity should be celebrated because each of us brings something unique to the table, making our society richer. So, if you want to understand why embracing who you are is so important, we highly recommend checking out Ditch the Label's article, '5 Reasons Why You Should Embrace Who You Are.' Trust us, it's an eye-opener! 
Loving Yourself
Next up, let's talk self-love. It's not always a walk in the park, but it's essential for personal growth and mental well-being. Loving yourself means nurturing a positive relationship with yourself and realising that your self-worth doesn't depend on what others think. You deserve to love and accept yourself unconditionally. To get some practical tips on how to love yourself, Ditch the Label has your back with their guide 'How to Love Yourself.' Go on, give it a read.
Practice Self-Care
Now, let's get into some self-care. Oh, you know, the good stuff we often forget to prioritise. Taking care of your mental, emotional, and physical health is crucial, especially in this crazy world. So, here's a thought: why not dedicate some time each week just for yourself? Have a pamper evening! Throw in a couple of our TLC Mini Foot & Bath Bombs into your bath, and while you're at it, try out our Brightening Face Mask or Clarifying Face Mask. Take 20 or so minutes for yourself to relax and unwind. You deserve it! And to help you with more self-care ideas, Ditch the Label has a fantastic list of '25 Ways to Practice Self-Care.' It's time to treat yourself.
You Are Not Alone
Last but not least, we want you to know that you are not alone on this journey. Finding and loving yourself can be tough, but guess what? We're here for you. Together, we can overcome any challenges that come our way and create a world that celebrates and embraces diversity. So, keep shining and be proud of who you are.
For more information and tons of amazing resources, make sure to check out Ditch the Label's website here.