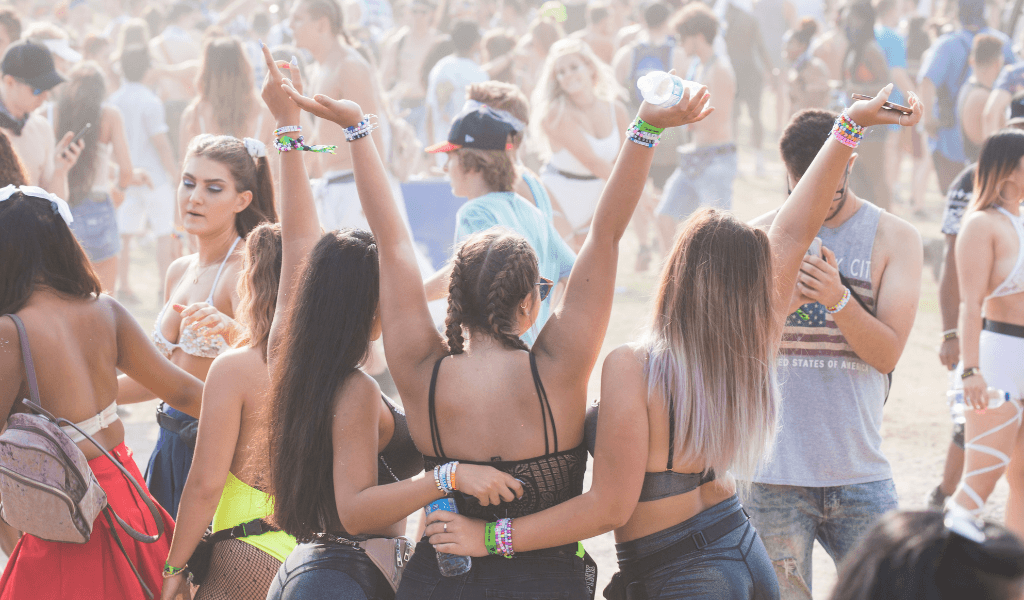 Hey there, seasoned festival-goers and first-time thrill seekers! It's time to unleash your inner party animal and prepare for a wild ride filled with epic moments and infectious vibes. Get ready to dive headfirst into the enchanting world of festival season where magic comes alive and the good times roll! So, let's embark on this joyous journey together and uncover the must-have essentials that will keep us grooving, glowing, and grinning from ear to ear! Are you ready? Let's do this! 🎉
There are so many fantastic festivals coming up in the UK waiting to tickle your musical taste buds and ignite your spirit of adventure! Will you be joining in on this festival madness? 
Tramlines (21-23rd July)
Kendal Calling (27-30th July)
Creamfields North (24-27th August)
Reading & Leeds Festival (25-27th August)
We are FSTVL (25-27th August)
So, you have your tickets booked but now what do you need to take with you? Here are our festival essentials…
Camping Gear: If you're camping at the festival, make sure you pack a tent and sleeping bag. It will be your home away from home, your little festival sanctuary to rest those dancing feet and to prepare for another epic day of festival magic. 
Portable Charger: Festival days can be long, and your phone's battery might not last until the headliner. Bring a portable charger so you can keep your device juiced up so you can capture those epic moments.
Water Bottle: Bring a refillable water bottle to stay hydrated whilst you're dancing up a storm. Festivals usually have water stations available to take advantage of.
Accessories: Anything you may need to make your outfit extra. Glitter? Glow sticks? Flower crowns? Funky sunglasses?
Positive Vibes: Of course, don't forget to pack an unlimited supply of positive vibes for those good times. This one speaks for itself!
Now, the best bit, the skincare essentials…
Sunscreen: We all love a bit of sunshine, but let's not forget the importance of protecting our skin. Slather on your SPF and keep your skin safe from those UV rays.
Fruit Works Multi Balm: A fruity snack for your skin + small enough to always keep with you, for whenever you need it!

It's your ultimate sidekick in the battle against dryness, swooping in to save the day and leave your skin feeling oh-so-smooth and hydrated.

Works as a lip balm, highlighter and to tame brows… it's a win, win!
Face Cleansing Wipes: You may not always have access to running water for a proper cleanse. Facial cleansing wipes therefore come to the rescue by swiftly removing dirt, sweat, and make-up from your face. Just don't forget to cleanse your skin properly once your home! (Make sure you opt for biodegradable face wipes!)
Fruit Works Face & Body Glow Mist: Stay hydrated + give your skin a boost of freshness with this hydrating Face & Body Glow Mist. The combination of heat, dancing, and outdoor elements can leave your skin feeling parched. Spritizing this hydrating mist throughout the day will help replenish moisture, provide a much-needed cooling sensation, and of course allow you to smell fresh + fruity!
Hand Sanitizer: Take a travel sized hand sanitizer with you to keep your hands clean and germ-free throughout the event. Be sure to look for formulas with moisturising ingredients to prevent your hands from drying out.
So, let's kickstart the festival season with a bang and let the magic unfold. Are you ready to dance, sing, and celebrate like there's no tomorrow? Let the festival season begin, and let's make every moment count!